Home straight now, only 2015 to go. And this one isn't just music – this will also contain reviews of films, TV shows, video games and anime shows that I watched/played over 2015 and that's how it's going to play out when I review my year of entertainment for this year. I don't know if I'll use it because I didn't much for 2014, but if I do, bold for things that are better than I rated them at the time, strikethrough for things that are worse and all comments in italics (except if I've done lyrics in italics) are the additions that I'm making today. This is all stuff I wrote up on Buzzjack.com and may contain references to the community there, please disregard any references you don't understand as those.
But in this edition, my thoughts on 2015's albums, films and TV shows.

26-11
26. Train – Bulletproof Picasso
25. Ed Sheeran – x
24. Galantis – Pharmacy
23. Taylor Swift – 1989
22. Hozier – Hozier
21. Ayumi Hamasaki – A ONE
20. Death Cab For Cutie – Kintsugi
19. Mumford & Sons – Wilder Mind
18. FKA Twig – LP1
17. Florence & The Machine – How Big, How Blue, How Beautiful
16. Years & Years – Communion
15. Against The Current – Gravity
14. Rachel Taylor – Come Alive
13. Marina & The Diamonds – FROOT
12. Owl City – Mobile Orchestra
11. The Pretty Reckless – Going To Hell
I'm not sure when this Train album actually got released but it takes a customary spot for their albums, i.e. nice singles and then an album I barely listen to, X was okay but far too many slow songs (and not in the cool way like I See Fire is a cool ballad), Pharmacy was a bit of a disappointment honestly, two stormer singles but then an album with not much else that needs listening to. 1989… eh, I don't worship it like a lot of people do and that it's here and not in 2014's EOY is a testament to that but it has some enjoyable pop on it. Hozier is instantly better than Ed Sheeran for delivering a meaningful singer-songwriter album, his voice is a nice prospect to listen to even if I haven't done it much outside Take Me To Church, Ayumi's album I barely meant to get but after loving Warning so much it did make sense, and it's a fairly cool J-Pop album. Kintsugi and Wilder Mind see stellar if not outstanding updates to previous faves, LP1 is a great chilled album from the best of her particular subgenre, the way that voice moves. Florence and Years & Years show off some of the better side of British music, if Florence has had better (although I appreciate the 'storm' theme), Communion shows off some pretty lovely pop, I may not be their biggest fan but I certainly am an appreciator.
Then in the final 5 to miss the top 10 we come to some of the albums I'm sorry to see miss top 10. At #15 and #14 are EPs from two acts who've had a strong year for me, Against The Current are an excellent new pop-rock band who's EP Gravity shows off some of the best of that genre in a young, excited way I thought I wouldn't hear again. Talk and Brighter are great great songs (for the latter, that's the same title as one of Paramore's earliest highlights). Rachel Taylor is a little bit more subdued but not by much, she used to be part of He Is We and I think now is running under the name She Is We and for her solo career is going far more down the pop rock route than her old band ever did. Songs like Dance With The Devil and Come Alive are really energetic and if you liked Porcelain or just like pop-rock, I'd definitely recommend that particular EP.
FROOT was, in the end, a bit weak by Marina's lofty standards but I still liked it or it wouldn't be up this high. There are a couple of highlights from it to come in the songs chart and a lot, particularly Happy and Weeds and Immortals have really grown on me. Similarly, an old favourite of mine, Owl City, falls pretty early on. I guess Mobile Orchestra just isn't as strong as his other efforts for me, it has several enjoyable tracks but maybe I have finally been sated with geeky pop anthems too much. Nevertheless, the likes of Thunderstruck and Unbelievable give us some good pop-rock and there's a couple of nice ballads like This Isn't The End, but definitely prioritise his other albums first if you wish to start spinning with the best.
Finally, The Pretty Reckless, I think this is the oldest album on the list but I only got it at the start of this year and it is rather lovely. As lovely as hard rock with a name of 'Going To Hell' can be. But then I like dark lyrics with what seems like a lot of tongue in cheek emo-esque and from the utter highlight of summer 2013 that Follow Me Down was there's also some great stuff in the title track, Heaven Knows, the longing cries of f***ed Up World, the bonkers Why'd You Bring A Shotgun To The Party, it's just as essential if not more so than their debut album.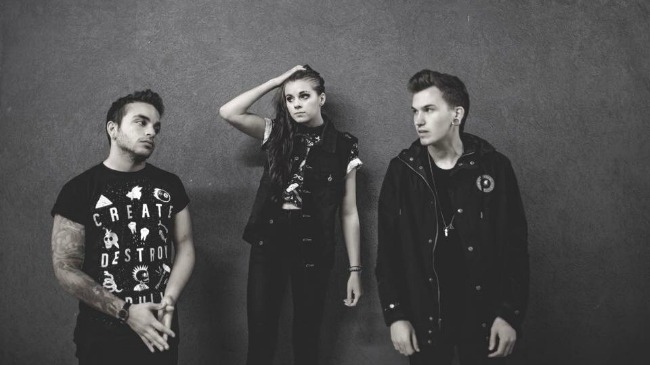 10-6
10. Wolf Alice – My Love Is Cool
9. Sia – 1000 Forms Of Fear
8. Susanne Sundfør – Ten Love Songs
7. PVRIS – White Noise
6. Muse – Drones
Moving into the really good end, 5 more albums I really enjoyed. Quality shifts sharply up from the section below which was… 'rather good… at least I didn't delete it' territory to some really excellent albums.
My Love Is Cool is one of the more credible albums on here. Indeed, it's something that music critics should probably be falling over themselves to include in year-end lists (not they DID from what I've seen) as Wolf Alice are exactly the sort of rock band that you might expect their sort to love, and critic darling-esque bands and the bands my music taste loves don't always cross over to the point where I really LOVE the band in question so to have an exception is very exciting. I initially didn't think much of what I'd heard of Bros but hearing single after incredible hard rock single come out this year really made me excited for this in particular, and it didn't disappoint, I had it on repeat in the summer. The band uses their frontwoman and the other guys to good effect to create a diverse album, it's actually not all that heavy, only on a few songs like Giant Peach and the well-named Fluffy (*.*), a lot is even towards the indie-pop end of the spectrum. And we all know how much I love diversity. Definitely a band I'll be watching for more from now, because I know they're capable of a wide variety of things. I'm actually sorry it's at the wrong end of my top 10, but we do have several more albums that were nearing perfection coming up.
1000 Forms Of Fear was actually the first Sia album I've invested in. And it's a good one, even though it's probably (at a guess) the most commercial she's ever been. I've always been a fan of her voice and the way she moves melodies to match it and instantly found a few non-single highlights, which is always good. Burn The Pages, Eye Of The Needle and especially Hostage I've been playing so much, and the emotion on Straight For The Knife is beautiful. Doesn't really have any down-time or filler and I enjoyed so much of it which is very good for a pop album given my critical eye towards that genre as I grow older.
Also surprisingly rather pop (although because of the way Buzzjack is structured it's TECHNICALLY a representation for the indie forum again, I think in this whole top 10, for those with Buzzjack threads, only Sia wasn't posted in there, further proving why it's the best genre forum here) and also in my EOY is Susanne Sundfør with her 10 love songs. They all show an excellent understanding of melody and how to build an exciting song. Accelerate for example lives up to its title in the most glorious way possible, you can feel the song getting faster as it builds towards a climax. And they're all like this. All epic odes to their title, encapsulating everything about that word or phrase, Delirious, Fade Away, Kamikaze, Slowly. As a pop album, it's mostly so perfect, it tails off a bit towards the end in terms of quality (Insects and Trust Me aren't quite as amazing as the rest) but, again, it should be higher. 2015 was really good at its top end.
White Noise represents another great new band and what have been acting as my replacement for Paramore this year, except a bit more refined. That's not a slight at Paramore but PVRIS are definitely slightly more in control of their sound, their songs are all very polished and well done. Sometimes I don't like that but Lyndsey is a very confident frontwoman with her own identity that elevates these tracks into really enjoyable experiences, from the beautiful Holy to the anthem of St. Patrick to the exciting rock tunes of Fire and Ghosts, it's been a good ride having this in my collection, they're a band I'm very glad exists. The world needs more bands like this, and not just to help the Séyetan cause, but it would be a truly better world.
I saw Muse live this year. They are now the biggest band I've ever seen live, in what was comparatively a small venue. It was one of the best experiences of my year. And that was the Psycho tour to launch off their newest album, one that I've taken to far quicker than I ever did The 2nd Law (though I love that too). Far from going downhill as they age, they're adding to their melodic and epic builds and it's just a whirlwind of all the stuff I love them for. A couple of these examples will be in my singles chart but honestly, the lead single disappointment of Dead Inside aside (it's rare that I don't like the lead single, but what were they thinking with that?), it's almost cinematic in how well the album is put together. I guess part of that is the Drones dystopian concept. Tracks like Revolt and Aftermath really benefit from that. But the best doesn't come until almost the end of the album. I often love the longest track on an album as it's so often the album in mini, with all the myriad elements that made up the album coming together in one blast, but I can't remember it ever being a particular highlight of Muse before. However, The Globalist, with its whistling start, its typical Muse ballad then Muse guitar chord middle with spoken word sample (10…9…8…7…6…5…4…3…2…1…FIRE), before finishing with an Elgar homage, it is everything you could ever want from Muse in one overblown, audacious track. And it works so well. Brilliant album.
5. Halestorm – Into The Wild Life
4. Fall Out Boy – American Beauty/American Psycho
3. CHVRCHES – Every Open Eye
It's somewhat surprising to me that before this year I'd only really heard Love Bites and I Miss The Misery by Halestorm, with a bit of Here's To Us thrown in (because unfortunately that's the only song everyone knows by them, it's uplifting and all but it doesn't advertise why they're so special) (and now I adore Here's To Us as much as the rest of them, I was just being a little hipsterish here, a common trait of mine). Because they are a perfect band for me, what with hard rock chords, a charismatic frontwoman and some pretty cool lyrics. Often I do include two albums including a catalogue album from an act I've really thrown myself into this year and if I'd done that, 'The Strange Case Of..' would be just about sitting in the same place as 'Into The Wild Life'. But in any case, Into The Wild Life is a really strong third album from an act that is one of my new favourite hard-rock bands and is obviously absolutely flawless with everything they do. They are a similar deal to The Pretty Reckless really, a heavier type of band (and therefore not a Paramore ripoff). Actually, seeing this album be the midweek #1 in the UK I think ranks top of my favourite chart moments of the year. I think I was one of the ones who bought it then. Utter anthems like Mayhem, I Am The Fire, Gonna Get Mine and Amen are exactly what you get on here, a few less ballads than The Strange Case Of and it's all the better for it, an absolute romp into… the wild life.
At the start of this year I really thought Fall Out Boy were past their peak, I took a brief listen to this new album and it was even more boring on first listen than Save Rock and Roll had been. However I think something majorly switched then as suddenly I couldn't get enough of ALL Fall Out Boy, past and present, but especially everything (The Kids Aren't Alright aside) on American Beauty/American Psycho. Too few bands are doing what Fall Out Boy are doing right now, I think they're one of the few veteran bands from the mid-00s that still seem to able to get some minor hits. Them and Paramore. And the experience speaks volumes, it's top of everything you could want in a pop-rock album. We have the wonderfully aggressive title track, the dancey Uma Thurman, the epic Novocaine, the Son Lux sampling chilled Fourth Of July, the brilliant bookends of Irresistible and Immortals (well, with Twin Skeleton after Immortals, but still). It's been a pretty brilliant rock album and in fact my favourite rock album of the year. If we go by strict genres for my top 3.
I sneaked Every Open Eye into my subtitle because I have made no secret of the fact that CHVRCHES have been saving Western music for me definitely in the last half of the year. Every Open Eye builds on the brilliant debut album from CHVRCHES, which I was spam-playing in the first half of the year and gives more airy pop perfection. It's the same sort of thing I loved Lights' album for last year but even more polished. So many of these tracks have made my EOY and I've been enjoying the rest as great additions to my collection. An album really well worth the money. It's just something about Lauren Mayberry's voice that draws me in and keeps me interested. Unlike so many other British singers, she sounds completely joyful while singing her parts and it uplifts the songs into something emotional and approaching perfection. I really have to thank her and her bandmates for keeping me interested in pop music, I think I might have walked completely away from it were it not for this album. It took a great deal of willpower to not put this in my top 2, really. There have been times this year where I've wanted to keep a CHVRCHES shuffle on all day, for the amount of stuff that gets compared to them on the blogs, there's really nothing like the real thing at this moment in time, I think it'll be a long time before I'm bored of any of the tracks on here.
2. Two Steps From Hell – Miracles
It's a strange way how such a small action can somehow decide the direction of your year. It took Chez entering the title track from this album to introduce me to the sublime wonders of Two Steps From Hell as an artist, and then it took hearing one other track from it on plug.dj (I believe also played by Chez, I have a lot to thank you for there) (Chez is an amazing man for recommending me music), Compass, to make me realise I had to purchase this album and see what other amazing, emotional instrumentals were on it. And that turned out to be about the best snap decision I made this year as I have since played this album far beyond the reach that any normal person would play an album. I have always been a fan of epic film music, it used to be all I'd say I liked when I was much younger, but I never really knew many of the names of the artists involved unless it was music for a specific film I loved (like Howard Shore for Lord Of The Rings or Hans Zimmer for Gladiator).
So therefore Two Steps From Hell's music really speaks to me, it stirs up the strongest sort of emotions in me. Like Lindsey Stirling last year, it's very easy to get addicted to melodic instrumentals as there's no vocals to tire on you. Though not everything is an instrumental and the ones with vocals from the wonderful Merethe Soldtvedt, My Freedom, Stay and Compass are all huge highlights of the album.
And unlike the rest of their music, I need to get the other albums at some point, but that's more epic fight and gaming music, this is intensely beautiful. The former has its place, but this, Miracles, is a focus more on dreams, life and love and sometimes those emotions are all the strongest. Sun Gazer, Eyes Closing, Fountain of Life are all filled with a bit of slightly epic to start the album off but I also adore the slower moments like I Love You Forever, Color The Sky, Forever In My Dreams (all so very poignant for me), and the very atmospheric Northern Pastures. It's an album of wonder, and it's affected my music habits so much this year, I'd recommend it to anyone looking for emotion in their instrumentals or just in general. A must listen for my 2015 (even though it did actually come out last year).
1. Nightwish – Endless Forms Most Beautiful
But of course, this was rather pre-ordained, and I said as much in my album chart last year. But I haven't done it with it being an undeserved conquest over Two Steps From Hell, Endless Forms Most Beautiful is an album I have loved, listened through many times, and there has been no album I have listened to more than this one this year.
The thing is with being a Nightwish fan, more than any other band I enjoy, it is that you really learn that the strength of a band lies not in its lead singer, but in its lead songwriter. Tuomas Holopainen is the brilliant mind behind Nightwish and he is the reason that they are my favourite band, not Tarja, not Anette, and certainly not Floor, although she gives a great account of herself on this first album, I think some of the Nightwish fan community were really worried she would turn out to be a disaster, but the minute I heard Élan, I knew that wasn't the case. Tuomas though, his influence is immediately still detectable in these songs, over all of them. Some of the album sounds like Imaginaerum, some of it sounds like the older stuff from Once or earlier, some of it, particularly the ballad Our Decades In The Sun, sounds very much like the stuff from his solo album last year (i.e. if you liked The Last Sled, you will probably like this album, or at least ODITS).
Endless Forms Most Beautiful is to some extent a concept album. I tend to like those as it really feels like the songs were put together with a structure in mind, which adds an extra weight and reason to listening to the album in full, and you also handily get to avoid the feeling that this album might have been put together by a bunch of music-hating suits in order to get a quick buck. Not that's probably a problem so far down the commercial scale as Nightwish are, but still, it's nice to have a cohesive album. And this actually was their most successful album in the UK, giving me another of my favourite chart moments this year, not long after the Halestorm #1, Nightwish were TOP 5 in the midweeks. If only those midweeks were the actual thing. And if only everyone listened to the true genre of hard rock. This is why I'm falling out of love with the charts, when they only allow these great albums one week yet slurp over Bieber and all the faux-RnB shit… I think I've gone off on a tangent.
Yes, EFMB is a concept album. In fact it's a concept album about the grandest of subjects, the entirety of human endeavour itself. Imaginaerum was about one human life, this is about everything since the Big Bang, with all aspects of human life. Shudder Before The Beautiful starts this off as the grandness of space gets created, Weak Fantasy taking a hard-rock stance against religions that control people's lives (controv perhaps but it's a tune anyway), Élan is about the beauty of life, Yours Is An Empty Hope and Our Decades In The Sun have a wistful feeling to them, the latter being about the band's parents, which makes it the most emotional song on the album. My Walden, Edema Ruh and Alpenglow build up a Celtic trilogy (Celtic vibes are always the best that Nightwish have) to give this image of the struggles that humans have faced throughout our history, while the title track deals with all the life that has been on our planet from the beginning to the present. Too many of these give me chills as they come to an extra poignant word.
Then there are the last two tracks. I tend to think of them as one as they work better together, but it actually makes the two a whole 30 minutes long. The first, The Eyes Of Sharbat Gula, is a slow, meandering track that builds up a real sense of foreboding throughout the track. The imagery of that famous picture aids the song, as a representation of the recent tragedies of the human race. The choir really helps that. And then Eyes… leads into the monster, The Greatest Show On Earth. I will be going into more detail on my EOY chart but suffice it to say that the 24-minute long behemoth was entirely worth it and really completes the album, delivering on the theme and with a couple of extracts from Dawkins to enhance the centre of the song, it's fantastic. Previous Nightwish lengthy tracks, Ghost Love Score, Poet And The Pendulum, Song Of Myself, they have been great, but really they pale in comparison to this. It's worth listening through the whole of the album just to get to this last one as by the time you complete it you'll feel completely fulfilled.
Woah, I wrote a lot. Endless Forms Most Beautiful is worth it though. It's another fantastic chapter to add to the catalogue of my favourite band. I had waited nigh on 4 years for this, ever since first properly becoming a fan of them and getting all their albums. With the anticipation I had for it, it could have EASILY disappointed. That it didn't but really built on my expectations and exceeded them was so very exciting, I think it made my 2015.
And now, films. This does contain spoilers for the five films listed below, if you haven't seen any of them – skip over that. It's five because that's how few films I normally watch, although I've beaten that for 2016 I believe.
FILMS 2015
I might get some retribution from the film-watchers here for saying this, but films are really my least favourite medium out of all the visual options I have available to me. The reason is really that I go into a story to fall in love with the characters. Preferably lots of them. Films, with only 2 hours to tell a story, can only really do this for a few characters, it's often hard for me to empathise with a straight hero, and all the intriguing side-characters get a couple of lines. So they're too short, but at the same time, they're also too long to casually sit down and watch one. And the fixed plot time builds things up too quickly and I find there's a lot more variety in the overarching plots a TV show can provide. Also, cinemas are expensive. So I only go to the cinema a few times a year, if that, and that's mainly to see big hyped films. So this lot may not be the longest and it'll mainly contain films we've all seen. A nice easing in, I guess.
From the beginning of the year:
The Hobbit: The Battle Of The Five Armies
The first film I saw in 2015, and the last of Peter Jackson's Tolkien films. Barring them making a movie out of the Silmarillion I'd suppose, but believe me when I'd say that any movie would either miss out a ton from that book or it would be the finest Middle-Earth history documentary you've ever seen. Maybe a movie about Beren or Hurin… but I'm getting away from myself. The Battle Of The Five Armies. While the original trilogy is 99.9% flaw-free, the one flaw being that Legolas doesn't know his cardinal directions when calling out Uruk movements, over time I have come to accept that The Hobbit, as a trilogy, isn't quite as infallible and at times it overdoes the fight scenes at the cost of developing the dwarves, which is what I was really hoping they'd do. Two-thirds of this movie is one long huge battle, as you might expect from the name. The vista is incredible however and there's certainly enough epic to fill a whole Erebor. So it's enjoyable but not close to the standard of LOTR, and you can see this in the level of attention to detail that was done in trilogy #1 with costumes, sets, vistas, in contrast, some of the Hobbit looks blatantly computer-generated and less authentic.
However, one thing I will always, always, always defend, as it seems to be people's main criticism of this movie, is its length. This wasn't just an adaptation of one small book, it was turning the key story from that one small book into a story that could rival LOTR in grandeur. It is, in some parts, a mainstream presentation of Tolkien's appendices and as someone who kind of sees him as a godfather of fantasy, my favourite genre, that absolutely appeals to me. I saw the extended version of the whole trilogy this Christmas and pretty much all of the flaws I found in the trilogy from first watching the theatrical release were cured (less so than the extended editions did for the originals, there are so many scenes from those I couldn't imagine LOTR without now, but still pretty excellent). There's several more nice moments with the dwarves (including one scene where Bifur and Bombur actually get lines), they included fantastic bits from the book that got missed out (like the dwarves comically getting introduced to Beorn in the second film, as well as the enchanted river), there's a bit more sense made in various scenes with elements being introduced before they were used, like, say, in the battle with Thorin et al getting up to Ravenhill, and there's a funeral scene as well as Dain being crowned the new king. So yes, not only were they not too long, they were not LONG ENOUGH. (I completely stand by this argument, I never got any of the criticism for that)
But yeah, yay Tolkien. I'm happy with how they finished it, I enjoyed it for what it was, a big romp into a massive fantasy battle. That sort of thing is cool.
The Imitation Game

The one film here I didn't see in the cinema, I included this because of all the films new to me that I saw in 2015, including films seen at home, The Imitation Game really stood out to me as one to talk about here, it's about Alan Turing, and as much as I say I need lots of characters to make a film worthwhile, focusing something on one historical character can really work wonders as you go in with an attachment to this person and of course Turing was one of the greatest men from at least the 20th century for the impact that he has had so a film dedicated to his life did captivate me rather well. And I guess that's what I mainly have to say about it, Cumberbatch played a role that's far less over-the-top than many other roles I've seen him in, with a few social issues, but still a clearly talented and introverted guy (after my own heart then x). This really carries the film, he has some struggles with Charles Dance's character, the depiction of the code-breaking is wonderful to watch, having a keen eye for puzzles, watching someone else solve a puzzle is also really appealing to me. And then it has the saddest ending too, jesus, really hammering home how backwards the laws dealing with LGBT folks were at the time. Definitely worth a watch. Incidentally, one of my presents for Christmas is The Theory Of Everything, which I suspect will fall into a similar bracket of films, I've heard nothing but good things about. More character studies of real people please films (or just historicals in general), they are an exception to my 'must have lots of characters' rules.
Inside Out
Now Pixar are normally excellent. Even so, I went into Inside Out expecting it to be somewhat a bit kiddy for me, I thought I might have outgrown Pixar. What I didn't expect though was for them to hit me with emotions. Quite… literally actually. As I'll go into in one of the later posts, I was really having a turbulent summer as far as my emotions go. Not directly because I was having a tough time, but I had finally finished years of study and I felt like I could really let my guard down and let a lot of the emotions I'm normally so good at holding away from the surface directly out. As such, I let my inner Sadness out and ended up having a great cry to some of this, it hit me right there in the feels, as they might say. Plot was a fun idea as well, I might have liked to have seen more of other people's minds rather than just using them for cheap gags, and the progression of the 'get back to HQ' plot itself was in the end very predictable, but I wasn't expecting a lot more there. And Amy Poehler really shined as Joy, thinking of her performance really makes me happy, because that woman can make anything joyful. A good film if only because it really made me feel a lot of emotions. And I'd prefer that to a technically excellent film that doesn't make me feel anything at all.
Spectre
SPEAKING OF those, I guess I should talk about Spectre. I think only Goldeneye and Skyfall, out of the small number of Bond films I've seen have really lived up to a film I love. Spectre was really quite Bond on autopilot, I didn't realise the significance of the reveal of Blofeld until later, and even then that feels underplayed, even for Bond, the final act taking place in a blown-out MI6 was hammy, and I didn't really take to what new characters there were. However, it wasn't all bad. I still enjoy Bond because the action sequences, particularly those at the start of a film (before MAIN PLOT kicks in) are enjoyable, and getting more for Q and Moneypenny to do is very welcome. I actually really found C a great Bond villain, because he's entirely realistically possible. And that makes him scary and watchable. Bond I find works best when it's not overdone. I care a lot for not losing my suspension of disbelief. Others may disagree. Stellar film, despite all those criticisms, certainly not as good as Skyfall but at least it got me into the cinema for more than one film at Christmas.
Star Wars VII: The Force Awakens
And the big one. The one everyone's talking about. Even the more sheltered members of my family are going on about it. The emotions I felt when 'a long time ago…' and the opening crawl came onto the screen are just kind of indescribable. And, pleasingly, it was not a disappointment. Now I know I love Episode I (for reasons like Duel Of The Fates, Darth Maul, Liam Neeson, the best character ever created and the Trade Federation) (again, I stand by this opinion, it's an unusual opinion but god damn Episode I is a good film) and I do, to an extent love seeing people complain about it, but it's nice to see everyone truly happy and excited for this new one. Because I don't think the biggest franchise on the planet needs another decade of angst over George Lucas' questionable writing decisions. And thankfully The Force Awakens didn't have any of that. The main criticism I see leveled at it is that it's trying to be A New Hope. And that's not a problem for me, A New Hope always felt, to me, a bit hindered by the time it was made in, and could have used a bit of fleshing out, and this does that wonderfully, set 30 years later and all, but I see nothing wrong with having history repeat itself. The new characters still feel like a load of blank slates, BB8 aside, but there's plenty of time for them to become as classic as Han Solo and Chewbacca. If they play the next couple of films right, this'll please everyone and make the franchise stronger as a result. Also, I loved the theme of taking us to new planets. Even if they still followed the basic desert planet/city planet/ice planet thing it's showing more of the galaxy. The Force Awakens has really made the galaxy feel a bit more alive. I hope it'll hold up as well on a second viewing, this is all from one viewing, but for some fantastic acts of nostalgia mixed with a push towards the new, it's a great time to be a Star Wars fan and I'm very glad I got to see it. If I was ranking them, I'm not, this would probably be my film of the year.
And now for (western) TV shows from 2015. There were a few. But 2015, in the summer, was also the year when I really started watching anime after watching The Melancholy Of Haruhi Suzumiya in 2013/14 and then leaving the anime world for the next year and a half. I haven't been on a break like that since and my watching of western TV shows has diminished, but I still keep several favourites.
TV SHOWS 2015
Be careful, for this post is long and may contain some spoilers. Again, I do try to keep it spoiler-free but sometimes even context or little bits of information about setting and the like can be considered spoilers. Be wary at least.TV shows are great, I do like my dramas, I've gone off comedies, or more specifically American sitcoms (which I now attribute to watching nearly all of How I Met Your Mother as a coping mechanism while writing my dissertation (that was not a month I like to remember with fondness), to the point where I now know every single machination in those types of shows), so I won't be covering any of those here. Unfortunately, due to my busy year I haven't had time to watch that many TV shows in full and a couple of incidences in the second half of year meant I didn't watch that many, firstly, I started watching more anime, which I'll talk about in a later post, secondly, I started a project to watch Star Trek all the way through. So I will cover a nearly 50 year old TV show as one of these entries. I am starting to get back on the TV show wagon, I've started The Walking Dead over the Christmas holidays and that's pretty captivating, at least at the point where I am. But I do have a few entries for these. Not How I Met Your Mother, I'm avoiding talking about that, I enjoyed it for what it was but I don't even want to finish it as it brings back too many memories of having to stay in and just work and having the only entertainment thing you allow yourself a brief 20 minute escape to vaguely smile at.
Game Of Thrones (Season 5) (and the appearance of this means that I promise to give my full opinion on Season 6 when I do this year)
I am a bit of a fan of Game Of Thrones. In the sense that it is just about my favourite TV show ever. Because it, and the accompanying books, are so well-written, plotted out seasons in advance, not afraid to kill off anyone and it's a show that has the balls to do anything. That and it's taking place in a living, breathing fantasy world with hierarchies, social cues and a culture just as detailed as any culture in real life. It is captivating. And all 60+ characters are watchable, for different reasons, I can't think of a character that I don't want to be seeing on the screen, whether I want to root for them or watch them be a total magnificent bast*rd or whether they're Arya, and be a complete bundle of awesomeness. Because she's one of my favourite characters in any sort of TV ever, I always tend to like female characters being completely awesome despite any kind of obstacles in their way (they don't have to be female but lately I've been finding myself identifying with female characters far more than I do male heroes – the male characters I identify best with are the smart ones who aren't protagonists – and females tend to actually have more obstacles to overcome) and Arya is one of the darkest and most well-realised of those, with a clear goal that she's working towards. So I guess my most major complaint with this season is that her storyline just seemed to stall while they tried their best to tone her down a notch
I hope she doesn't remain blind or at the least isn't hindered towards producing future moments of awesome retribution on whoever's left alive on her list. Because I want to see her win the show. More than any character except Daenerys (who is probably the more likely option in the real world).
But the rest of this season was pretty good at continuing on the story to a point where I do actually feel the story is moving along. Dany is out of Mereen FINALLY (and I thought she would stay out), even if it took far too long, we got a fantastically tense scene in the pits where I wasn't sure who was going to live or die even if the only way out was pretty obviously Drogon suddenly arriving out of nowhere. Cersei got one of her greatest scenes yet and 'Shame' spawned a pretty funny meme. Dorne wasn't actually a big let-down as I actually enjoyed the Sand-Snakes characters, Ramsay, Sansa, Brienne all had pretty stellar plots going on, and while the ending to all of that feels quite unresolved I'm sure that won't be a problem once Season 6 starts.
The real strength with this season lies in the North though, Hardhome was the first time for a long while that I felt completely scared by knowing what was coming and not knowing who would make it out of that accursed place alive. It gave me similar feelings to the Red Wedding but less of a sudden shock and more of a sustained half-an-episode shock. That is the sort of trance and great state that a truly brilliant TV show can place me in. I wonder if it will be as brilliant on second viewing, I'm saving a proper runthrough again for when the series is finally done I think, but that first viewing completely blew me away. The 'shock ending' to episode 10 didn't feel quite as powerful coming off the heels of that but it's still interesting and seeing the fallout of that should be fun.
Best Episode: Hardhome. For those reasons above. It might even be my favourite episode of the whole series, such was its effect on me. Additionally, we've needed this for a long long time, but for the first time since perhaps Season 2, the Walkers really felt like a proper threat again. Men are right to be scared of them, I look forward to seeing them sweep south and bringing death to kings in their castles.
Best Character: This season…. not Arya because she got such bad material although she'd be a surefire candidate in most other seasons. Nah, I'd actually give it to The High Sparrow, for being a completely captivating character whenever he's on the screen, a new guy with a new angle on his motivations and most importantly, a proper rival for Cersei that she really can't defeat and ends up getting broken by.
Star Trek (yes, I started a full rewatch of Star Trek. At time of writing, I'm currently on DS9 Season 2/TNG Season 7, but I was going far faster until a few months ago, now I'm only watching a few a month. I may even write a blog post about my experiences when I finish TNG again)
So I am a bit of a sci-fi nerd at heart and, predictably, my childhood favourite/general favourite from that is Star Trek. I've seen loads of Next Generation, Deep Space Nine and Voyager too many times to count. But I'd never seen any of the original series so, not having watched any Star Trek at all for a couple of years I decided to fix that and take a bit of a time-shift back to the 60s, to see if I could get past the somewhat primitive production values and watch all 3 seasons of the original series. Which I did over the summer. I also planned once this is over to go for an 'organised rewatch' of all subsequent Star Trek. That's just me being organised and all it means in practice is at any point in the future when I feel like watching Trek I shall go to the next one on my (production order) list (currently on TNG season 3 yay). And eventually go through them all again because I've been itching to fill in all the TNG and ENT gaps and rewatch DS9 for a while – I'm specifically going slow because I rewatched Voyager a couple of years ago and as lovely as it is (Hi John) I don't want to run into it again so soon. But enough about my plan to become Supernerd and onto what I actually thought of the 60s sci-fi.
It was… okay. Certain episodes were pretty brilliant. And they tended to be the ones that I've seen most people laud anyway because they really stand out from the pack by virtue of having a very charismatic and interesting villain who'd later become a classic (Space Seed – the one with Khan), used classic Star Trek races as a threat (Balance Of Terror – Romulans, Errand Of Mercy – Klingons, Day Of The Dove – Klingons again, The Enterprise Incident – Romulans again, The Tholian Web – Tholians – they aren't as recognisable but probably the only reason they didn't become as ubiquitous as Klingons or Romulans is the budget required to depict them, fantastic villains), or just became classics by the sheer strength and uniqueness of their concept (Mirror Mirror & The Trouble With Tribbles). Oh, and the time travel ones and those that used somewhat explainable ways to depict some element of Earth's past were also pretty enjoyable.
But despite that it's actually quite slim pickings. The average episode has a large amount of the following occurrences:
• The Enterprise is on a mission to deliver medical supplies to Planet B asap but get sidetracked at unimportant planet A.
• They are in orbit over Planet A but they are being prevented from leaving by a malevolent omnipotent force that can halt starships.
• Kirk, Spock, and McCoy, the three most important people aboard, beam down alone.
• They encounter some aliens who look like humans dressed up as some familiar element of Earth's past.
• Their communicators to the Enterprise immediately cease working and an anti-transport field goes up around the planet.
• A security officer dies horribly.
• The aforementioned omnipotent being is affable and offers them hospitality but is secretly plotting something.
• A slimy, unscrupulous, probably bearded chap in charge of the planet's government (from some place that looks like a village hall) makes demands of Kirk and tries to trick Scotty into giving him the Enterprise.
• Scotty is hyper-competent when dealing with villains, so much so you wonder why he isn't the captain.
• Spock muses about the implausibility of their situation.
• McCoy snaps at Spock to consider human emotions.
• Chekov, Sulu and Uhura do nothing except follow orders, Chekov may comment on something being from Russia.
• Inequalities in the planet's system are revealed.
• Kirk sees a beautiful woman bathed in pale light.
• This woman immediately falls for one of the main characters, normally Kirk, and helps them escape from their predicament.
• They fight their way past enemy bodyguards, Spock neck pinching the most troublesome one, and confront the villains.
• Kirk yells a bit about morals.
• Kirk gets very impulsive and nearly blows the whole mission.
• Something gets into the Enterprise's engines and threatens to blow them up, much to Scotty's dismay.
• Kirk destroys the omnipotent being and tells the inhabitants of the planet they can learn to live without gods.
• A malevolent computer appears from the back of the villain's cave.
• Kirk talks this computer to death in about a minute with one well-placed logic bomb.
• Everyone ends the episode happy. The Enterprise warps off into the sunset while Kirk and McCoy crack a joke at Spock's expense.
Not that any of those are bad on their own, but a FORMULA starts to appear and it becomes predictable, the 'god' thing and the 'computer' thing are revisited in tons of episodes and it's rarer than not to have the episode NOT have any force that can't incapacitate the Enterprise long enough for Kirk and others to get trapped. Later Star Treks have a lot more variety in plots and they do move a lot faster. It's somewhat a product of its time in that respect. And of course there are some plots which are even sillier, like the one where they find a planet that has exact replicas of the USA and the 'Commies' only the (all Asian-looking) Commies have won and Kirk has to lead the underdog 'Yankees' in singing the Star-Spangled Banner. Or the plot where they end up on a space Nazi planet because a Federation historian THOUGHT FASCISM COULD WORK. Or the plot where they meet a god claiming to be literal Apollo. Or the plot where a band of children take over the Enterprise under the mind control of a creepy old man-godalien. That's somewhat camp. At least those episodes aren't as dry as some though, some were so dull I was scrolling through Buzzjack/the Internet while barely paying attention. The budgetary constraints do serve to slow the show down as everything feels a little duller when your main decoration is shiny metal and garish red overlay. Or planets that are just a barren landscape with some rocks made out of papier-mache.
As far as characters go, Kirk is the only real one who these adventures happen to. Occasional episodes have it happening to Spock or McCoy, and Scotty gets a fair bit of air-time, but the rest are just cyphers. While not a bad thing to focus on one character, Shatner's not strong enough to carry 3 seasons on his backs and I'd have killed to see an episode properly focused around Sulu, Chekov or Uhura. The show was probably amazing for the 60s, which is WHY is spawned a huge franchise that shaped sci-fi and modern technology as we know it today, but can't really stand up to modernity or even the 80s TNG, and definitely don't watch all of it unless you're REALLY enjoying it, watch the ones you've heard are best, like the ones I mentioned up there, because they are some brilliant examples of sci-fi and are the main reason this show is remembered. No one remembers Kirk grimacing at a space cloud or talking to some Jafar-esque dignitary but they do remember Spock with a mustache and the little furry tribbles that purr and multiply out of all control.
I also soldiered my way through the accompanying animated series that came on the air briefly in the 70s after the network realised it was a mistake to cancel Star Trek but had already sold off all the sets. The animation gave them a lot of room to get some creative looking episodes but knowing what I know about Star Trek, even if you only take the original series into account with most of the aliens being entirely human, lots of episodes with garish plant-life/slug/pterosaur aliens really feels out of place in the ST universe. The animated style is very dated and clearly under a lot of budget, characters' mouths barely move, Kirk for example looks either bored or perverted. A few of the stories are interesting, notably Yesteryear which is rather restrained and gives us some nice Spock background but the majority are either drug-addled messes or inferior sequels to popular original episodes done up for the Saturday morning cartoon audience. There were only 22 short episodes, and it only took as much time as 11 normal episodes, so it wasn't a huge time waste and I can say I've done it. Never again.
Best episode: Mirror Mirror
Best character: McCoy or Scotty, both had equally brilliant moments over the course of the series.
Continuum
Off a recommendation from Johnkm, I have plenty of those to pick up on eventually, I picked this one because the premise sounded very interesting, somewhat similar to Fringe, and I love that. Well, only similar in that it's a cop show mixed in with sci-fi, I normally don't take to cop shows but combined with supernatural elements they become very intriguing as so many possibilities open up in the world of figuring out 'whodunnit'.
The premise itself is that a cop (and mother) from the 2070s gets sent back to our time along with a bunch of terrorists who were about to be executed. Oh, and Vancouver is also the center of the universe, as it's a Canadian production. The latter means that, at least at the start of the series, you have so many more villains than heroes, each with their own defining personality traits. That's good, but that's not the half of it. The thing is, their villainous position is one that I'd actually be rather sympathetic to, not to the extent of killing so many innocents like they do obviously but in that they're trying to build their vision of a better humanity, and that vision is anti-corporation (in this future the corporations are now the government, you see). As I've never bought that corporations can be people and hold certain… strong views on them being far too economically powerful to the detriment of many poor people today, that's amplified much higher here. So with Liber8's philosophies, I'm somewhat on board. It's interesting to watch as the series progresses and the prevailing viewpoint of the heroic position slowly swings from pro-corporation to pro-humanity, in essence, it kinda swings with Kiera's views but that's okay. For a protagonist, Kiera is very watchable and relatable for me too, I don't often empathize with the strong family position protagonists have but I do empathize with her determination and drive to stay alive and make it back home.
Things pay off very well, at least through the first 3 seasons, I found season 4 a bit less great than the others even though it did end nicely, and you can tell they were planning things out in advance. A very good watch if you fancy a sci-fi procedural that builds up its own universe and rules of time travel nicely and has a screwy approach to morality.
Best Episode: As it's all so arc-based it's hard to pick a favourite but Second Time all the way through to Minute Changes is a pretty brilliant execution of moving the show into a pretty perfect alternate universe. I wasn't a fan of Brad and his soldiers' involvement in the end, but before he appeared it was all going brilliantly. Honourable mention to Second Truths, which used the show's place in two times to investigate a murder case very satisfyingly. And that also has Carlos discovering the truth about Kiera, and that was something really needed because one only wants to keep characters in the dark for so long.
Best Character: HARD. Kellog, Kiera, Alec, Travis, Garza are all candidates. But I'd have to go for Sonya Valentine as she's a real genius with planning out her moves in advance, she always manages to remain in control and look pretty exude an air of self-confidence.
(and now everyone just ignores the next paragraph and we can all be happy. Or I could just not post it. But I'm honor-bound to do that)
(yes I used to be a brony, kind of. I hope that brings back good nostalgic memories for you and not feelings of rage, I never went to any conventions or bought any merchandise, I just watched the show out of curiosity when the whole thing started and found I rather liked it. That's all. I suppose it was also one of my gateways to anime as that art style is similar and I do love my animation)
My Little Pony: Friendship Is Magic
This I actually also watched again during 3rd year as a coping mechanism because it always puts a smile on my face. I have yet to catch up to current production order but it'll be there when I next feel I need the morale boost (haven't relied on it yet, but it's still there in case). At this point I just have so many memories associated with it that I feel entirely comfortable with saying I like it (and I also like to think other people have moved past the 'omg you like a little girls' show? GET HIM' phase). That's like. Not love. Like. I enjoy the show because it's so cutesy and innocent and the art style is one step short of anime (i.e. brilliant). I normally like darkness and pathos, but sometimes you can't have it all the time, and this is lightness and fluffiness not in the way that you're making a boring story where the heroes always win, but one where people (or ponies) are fundamentally nice to each other and it's just good for lifting spirits.
So this was mainly me watching Season 3 and the start of Season 4, as well as rewatching Season 2 as it wasn't fully embedded into my brain. All I can say is that the plots were NICE. I don't go in here expecting it be great TV, I expect it to cheer me up when I've had a bad day. And for that, it does its job impeccably.
Best Character: Rarity, obviously. In all my pony sigs, she's there. Because she's the pony who comes out with the most hilarious lines (and her voice is brilliant to listen to, even though they all have American accents, she has an upmarket Atlantic accent that can sound almost RP at times), and in a world where you're watching a show about cartoon ponies, of course I'm going to gravitate to the girliest pony (because you see I just like really girly characters for reasons I cannot fathom). I seem to gravitate to more feminine characters anyway but it just really works. Of course, all the other ponies are also very fun to watch and I wouldn't want the show to be without any of them. But if I want a pony to relate to (and yes, despite her fashion-loves and snobbiness, I most often relate to her, with things like family issues and her actual interest in love and her other interest in wanting to get noticed), I pick Rarity.
Best Episode: Picking from the whole lot, I have to pick Secret Of My Excess, because it makes me cry tears of joy everytime. Sisterhooves Social comes close as it reminds me of times in my own family. They're both Rarity-heavy episodes. Surprise. Also I have to give a mention to Magical Mystery Tour because it had an almost Star Trekky plot and gave us two of the best songs out of the whole show (that's another thing, the songs are top-notch, you may have noticed with Love Is In Bloom & Babs Seed (those were entered to BJSC) but there are yet more if you want friendship feels)

i promise not to be this brony again for another year
(this shows how much I have for anime over TV shows, I have 7 animes worth talking about for 2015 but only this that I can recall and want to talk about, there was Humans but it was too short and 'typical sci-fi' to really say much about and I can't think if there's anything else I've missed, I promise to even it out again if I do this again next year, The Walking Dead would be there for sure)
~~~
Alright, part 1 of 2015 done. I think it's more thought-provoking than a lot of my backfills, I like this format I've settled on.